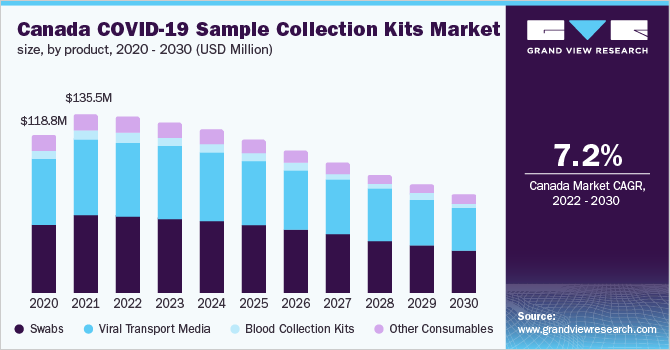 COVID-19 Sample Collection Kits Industry Overview
The global COVID-19 sample collection kits market size is expected to reach USD 3.03 billion by 2030, according to a new report by Grand View Research, Inc. It is expected to expand at a CAGR of 8.7% from 2022 to 2030. The continuous approval of diagnostic tests for effective diagnoses of SARS-CoV-2 infection raises the demand for sample collection products, such as swabs and Viral Transport Media (VTM). In addition, a shortage of testing materials such as swabs, reagents, and others has resulted in the proliferation of new players in the space, thereby driving the market revenue.
COVID-19 Sample Collection Kits Market Segmentation
Grand View Research has segmented the global COVID-19 sample collection kits market based on product, application, site of collection, and region:
Based on the Product Insights, the market is segmented into Swabs, Viral Transport Media, Blood Collection Kits, Other Consumables.
The swabs segment led the market with a revenue share of over 40.0% in 2021 owing to the reliance on a substantial number of approved diagnostic products for the use of NP swabs. According to the CDC, other samples from the respiratory tract can also be collected when the use of NP swabs alone is not sufficient. These include an oropharyngeal swab or a swab from a nostril.
In India, for example, Abbott announced the Panbio Covid Antigen Rapid Test in July 2021. This test is used to identify COVID-19 contamination in both adults and children. It is used to identify infection in asymptomatic individuals and provides findings in 15 minutes. It is 93 percent sensitive. Over 300 million of these tests have been distributed worldwide.
On the other hand, with approvals of blood-based serology tests/antibody detection tests for SARS-CoV-2, the demand for blood collection products is increasing.
For instance, Puritan Medical Products was granted USD 110 million by the Department of Defense, in collaboration well with the Department of Health and Human Services, on January 8, 2021, to purchase production equipment to increase the national manufacturing capacity of foam tip swabs for use in vital COVID-19 diagnostic
Based on the Application Insights, the market is segmented into Diagnostics, Research.
The diagnostics applications segment accounted for the largest revenue share of over 65.0% in 2021. This is due to the continuous approvals of diagnostic tests for SARS-CoV-2. As of 1stDecember 2020, a total of 1,295 tests have been approved by the U.S. FDA under EUAs; out of which 227 are molecular tests, 61 are antibody tests, and 7 are antigen tests for the detection of COVID-19 infection.
The research segment accounted for low penetration in the global market in terms of revenue generation. However, an increase in the number of R&D programs that deploy sample collection kits to examine the effectiveness of various diagnostic tests is expected to drive the segment.
Based on the Site of Collection Insights, the market is segmented into Hospitals & Clinics, Home Test.
The hospitals and clinics segment accounted for the largest revenue share of over 90.0% in 2021 due to the exponential increase in the number of hospitalizations related to the coronavirus. As the number of COVID-19 cases is increasing globally, many hospitals are expanding their testing capabilities for the detection of the SARS-CoV-2 virus. 
Several states in the U.S. have reported the challenges of inadequate testing capacity. In Maryland, hospitals' 86% capacity is already occupied with 1,583 COVID-19 patients statewide as of 1stDecember 2020. As a result, country officials and local hospitals have begun taking initiatives to ensure sufficient testing capacity to keep pace with a rising number of hospital admissions.
The market for home settings is expected to grow lucratively during the forecast period as the companies are aiming at patient comfort and the safety of healthcare personnel.
COVID-19 Sample Collection Kits Regional Outlook
North America
Europe
Asia Pacific
Latin America
Middle East & Africa (MEA)
Key Companies Profile & Market Share Insights
The presence of a substantial number of well-established, small, and medium-sized players has led to an increase in the market competition. Each player is undertaking multiple business strategies to gain a competitive edge in the market.
Some prominent players in the global COVID-19 sample collection kits market include
Puritan Medical Products
COPAN Diagnostics
Becton, Dickinson and Company
Thermo Fisher Scientific, Inc.
Laboratory Corporation of America Holdings
Lucence Diagnostics Pte Ltd.
Hardy Diagnostics
Trinity Biotech
Quidel Corporation
Quest Diagnostics
Danaher Corporation
Vitagene Inc.
Formlabs
HiMedia Laboratories
VIRCELL S.L.
Order a free sample PDF of the COVID-19 Sample Collection Kits Market Intelligence Study, published by Grand View Research.