Femtech Industry Overview
The global femtech market size was valued at USD 5.1 billion in 2021 and is expected to expand at a compound annual growth rate (CAGR) of 11.1% from 2022 to 2030.
Growing health consciousness amongst the female population, normalizing & proactively addressing women's health issues will contribute to the high market growth. Increasing disposable income, digital literacy, smartphone penetration, internet connectivity, digital health infrastructure, and the emergence of startups focusing on women's health present lucrative opportunities to new and existing market participants. The growing availability of smart wearable devices is contributing to market development and growth. Health tech developers and investors are capitalizing on untapped opportunities and funding innovative product development strategies to address women's health issues.
Gather more insights about the market drivers, restrains and growth of the Global Femtech Market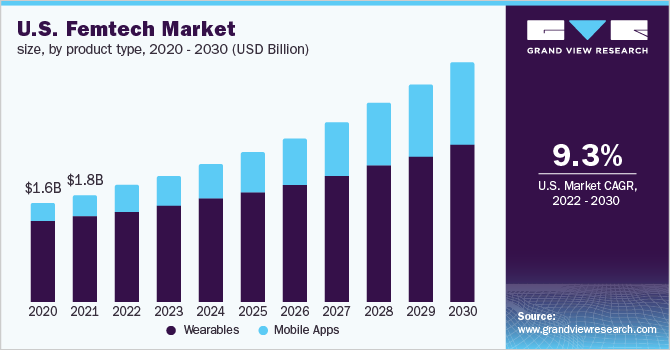 Manufacturers of smart wearable devices and developers of advanced mobile applications are integrating their innovative product development strategies to efficiently utilize resources serving women's health needs. Through these applications and devices (wearable and non-wearable), female users can easily track their health & wellbeing, receive informational content on multiple health queries, and actively engage with female communities or healthcare professionals. For instance, in July 2021, the U.S. FDA approved and gave clearance to Natural Cycles to use body temperature data readings collected by smart wearables, such as Oura smart ring, for assessing a woman's fertility and managing pregnancy.
Few players that are integrating the app and devices are Natural Cycles & Oura smart ring, AVA Fertility Tracker wearable and AVA Fertility Tracker application, Google and Fitbit, and a few others. App and device combination is mainly offering period cycle tracking, fertility & ovulation management, menstrual health management, and pregnancy care management solutions. Through these innovative solutions, the market players focus on improving user engagement and desired outcomes amongst female users. The societal shift toward normalizing women's health issues and actively addressing them through different digital health technologies are boosting the market growth. Customized health approaches allow women users to better understand their bodies and prioritize their health issues in an appropriate manner.
Browse through Grand View Research's Healthcare IT Industry Research Reports.
Care Management Solutions Market – The global care management solutions market size was valued at USD 11.5 billion in 2022 and is expected to grow at a compound annual growth rate (CAGR) of 14.41% from 2023 to 2030.
Digital Biomarkers Market – The global digital biomarkers size was valued at USD 2.43 billion in 2021 and is projected to grow at a compound annual growth rate (CAGR) of 21.9% from 2022 to 2030.
Market Share Insights
August 2021: Labcorp acquired Ovia Health, formerly known as Ovuline, a personalized data-driven solution for reproductive health companies. Through this acquisition, Labcorp strengthened its business position as a go-to source for women's health insights and ventured into new avenues for personalized care.
March 2021: Clue received the U.S. FDA clearance for the launch of Clue Birth Control—a digital contraceptive built-in Clue application that can predict ovulation statistically by using a tool for birth control.
Key Companies profiled:
Some prominent players in the global femtech market include
Natural Cycles USA Corp
Flo Health, Inc
Clue by Biowink GmbH
Glow, Inc
Google, Inc.
Apple, Inc.
Withings
Fitbit, Inc.
Order a free sample PDF of the Femtech Market Intelligence Study, published by Grand View Research.