https://www.vikkislade.org.uk/jprizin30092021/live-jp_r_i_z_i_n_3_0_2021_t_v
https://www.vikkislade.org.uk/jprizin30092021/live-jp_r_i_z_i_n_3_0_t_v_k9a8rlidcxe27a8uybc82g
https://www.vikkislade.org.uk/jprizin30092021/live-jp_r_i_z_i_n_3_0_t_v
https://www.vikkislade.org.uk/jprizin30092021/live-tv_r_i_z_i_n_3_0_t_v
https://www.vikkislade.org.uk/jprizin30092021/r_i_z_i_n_t_v_r_i_z_i_n_3_0_t_v
Run by the Mangrove Action Project, the competition – now in its seventh year – aims to show the relationships between wildlife, coastal communities and mangrove forests, as well as the fragility of these unique ecosystems, both above and below the waterline.
Rahman's winning image, A Brave Livelihood, was selected from more than 1,300 entries from 65 countries.
"Indigenous Mowal honey gatherers, protected by Bonbibi, the forest goddess, must evade the dangers (Bengal tigers and saltwater crocodiles) lurking in the mangroves," says Rahman.
"This ancient tradition and sustainable relationship between people and the mangrove forest takes place in the Sundarbans in Bangladesh, and also India."
Mangroves are an important protection against climate change, with one acre (4,000 sq m) of mangrove forest absorbing nearly the same amount of carbon dioxide as an acre of Amazon rainforest.
The forests also protect coastlines from eroding as intense storms grow more frequent.
"Today, less than half the world's original mangrove forest cover remains," says competition judge Robert Irwin.
"It has never been more important to promote the conservation of these fragile ecosystems through inspiring photography."
Here is a selection of winning images from six competition categories, with descriptions by the photographers.

Mangroves & People winner: Mangrove Propagators, by Mark Kevin Badayos, Philippines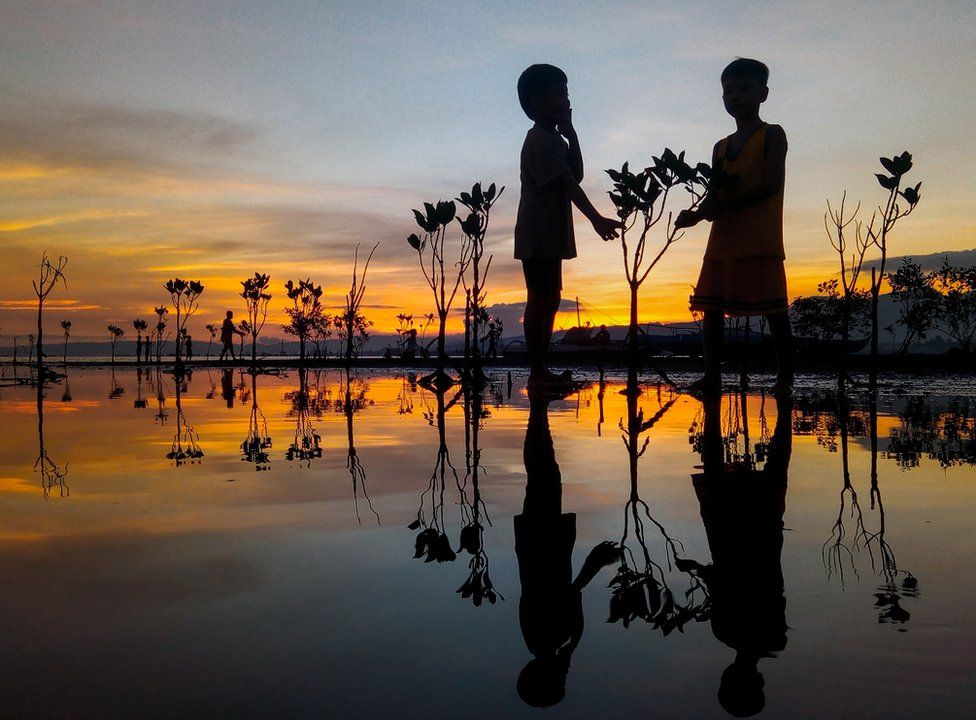 The sun sets on a stretch of coastline after a mangrove restoration and beach clean took place within the local community.

Mangroves & People runner-up: Kayaking at Al Reem Island, by Hooreya Al Muflahi, UAE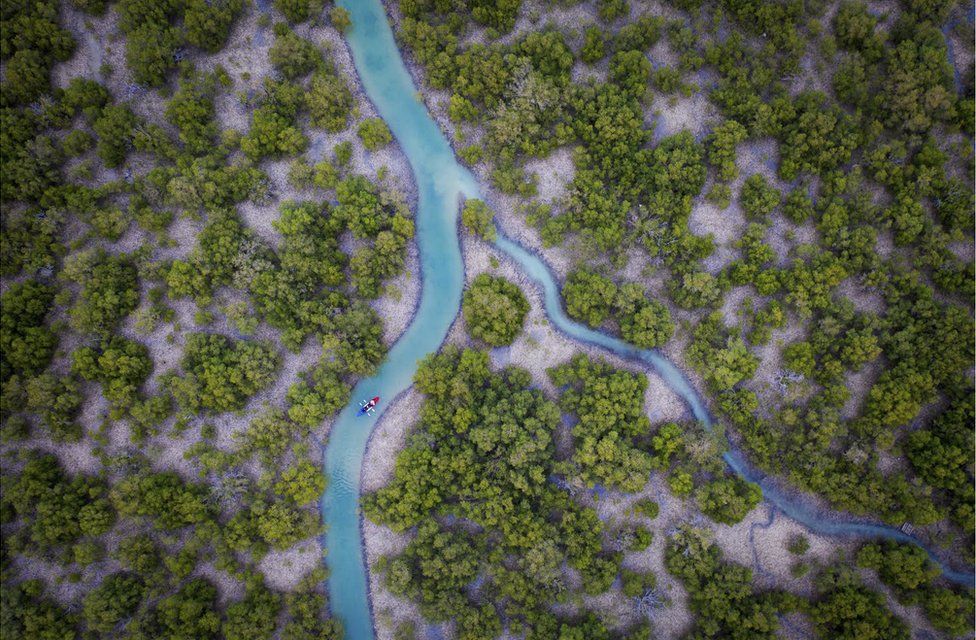 Enchanted by the mangroves during a kayaking trip, we put the drone up to get a different perspective to reveal the perfectly calm blue water between the mangroves.

Mangroves & People highly commended: Work in Progress, by Abhijit Chakraborty, India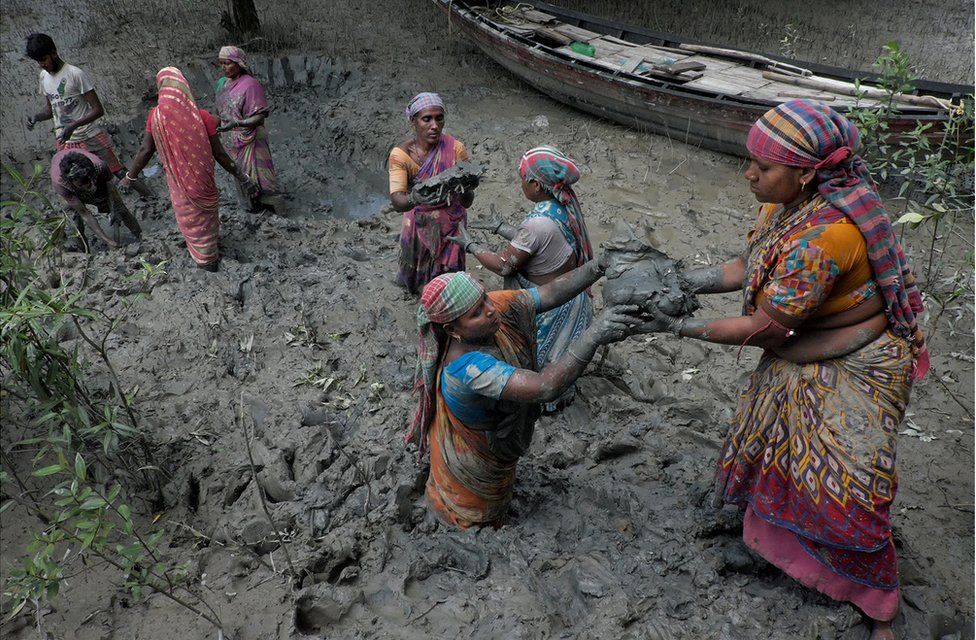 As climate change and sea level rise threaten the future of the Sundarbans, building dams and mangrove beds is becoming one of the last hopes for the people here.

Mangroves & Landscape winner: Autumn Tree, by Zohaib Anjum, UAE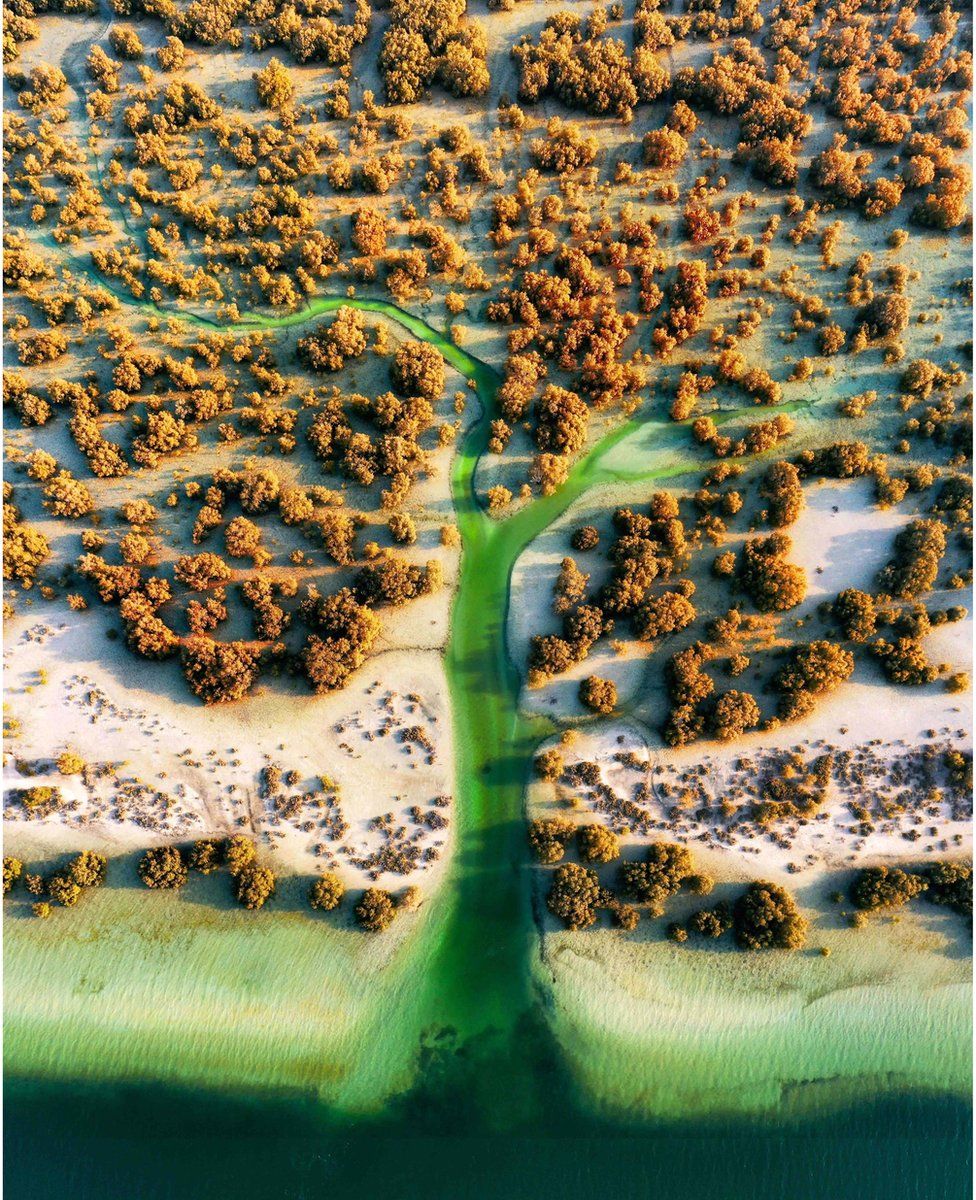 Most of the mangroves along UAE's coastline are found in Abu Dhabi, acting as a "green lung" for the city.

Mangroves & Landscape runner-up: Mangroves at Dawn, by Melodi Roberts, USA