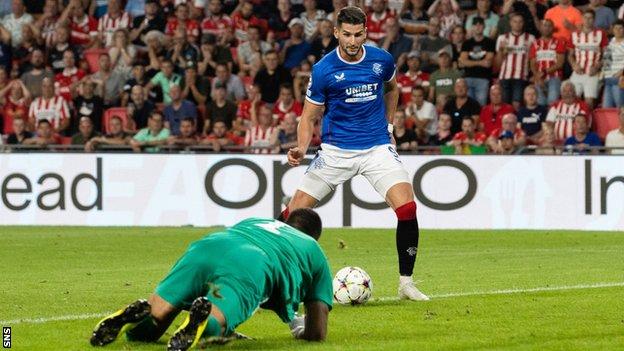 Rangers will play at European football's top table for the first time in more than a decade after stunning PSV Eindhoven to reach the Champions League group stage.
The decisive moment of an absorbing tie finally came on the hour, when Malik Tillman intercepted a PSV pass out from defence and squared for Antonio Colak to find an empty net from six yards.
The Philips Stadion went almost silent and the home side could find no response in the final half hour despite a flurry of chances.
Rangers can now look forward to drawing some of the continent's biggest names in Thursday's draw, where they join rivals Celtic in pot four as the pair play in the group stage in the same season for the first time since 2007/08.
Also vital will be the minimum £25m windfall which will now come their way as the Ibrox side complete the turnaround from playing in Scotland's third division 10 years ago to the Champions League.
'Dogged Rangers fight way to place with big boys'

What awaits Celtic & Rangers in group stage?

How calm Van Bronckhorst led Rangers to big time

Podcast: 'Rangers can swagger in Champions League'
The feat was achieved with a huge amount of resilience as PSV threatened throughout, and also amid the controversy surrounding striker Alfredo Morelos, who was left at home due to concerns about his attitude and fitness.
Instead it was the man who has started in his stead all season, Colak, who was in the right place at the crucial moment to score his fifth goal in eight games after brilliant awareness from Tillman to read and shut down goalkeeper Walter Benitez's pass.
The inevitable response from PSV came as Philip Max shot wide, and goalkeeper Jon McLaughlin denied their star man Cody Gakpo when through on goal, and those were just the opportunities which came after Rangers struck.
There were others, including a free header from Ibrahim Sangare and a shot from close-range from Luuk De Jong fired straight at McLaughlin, but ultimately there was no way through.
Rangers showed immense character to hang on and also had their own strong spells, with Tom Lawrence unlucky not to score with a fantastic curling effort which cannoned back off the bar.
But it was their European muscle memory which got Giovanni van Bronckhorst's team over the line, as they again proved a smart, skilful and gutsy team on the big stage, traits which characterised their run to last season's Europa League final.
Now, the club and its fans can look forward to testing themselves on the biggest stage.
Man of the match – James Sands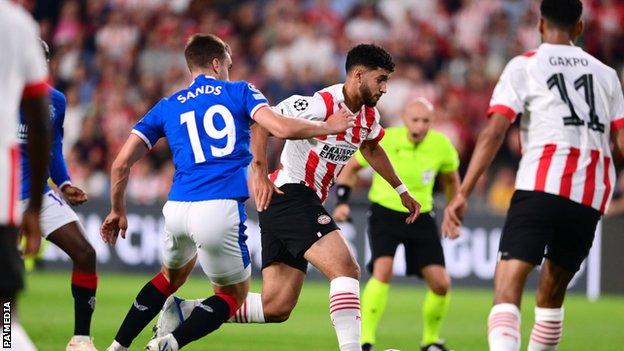 Triumph in tough circumstances – analysis
Rangers have impressed regularly in Europe in the past four seasons, and this performance underlines the belief and confidence in the group as they triumphed despite trying circumstances.
Van Bronckhorst made a huge call to leave out Morelos and travel with just one recognised striker in Colak, and their preparations were disrupted further before kick-of when their bus was held up by PSV fans. Then there was the fact their away record in Europe read just one win in 11.
But away from Ibrox and in a rowdy arena, they still produced the goods. It wasn't the swashbuckling football they showed on their run to Seville last season, but they were disciplined, rode their luck, and delivered big moments when it mattered.
Tillman's reading of the game was crucial, and McLaughlin's brilliant save from Gakpo kept them ahead. With Celtic already assured of their place in the group stage, it was vitally important for the club financially to keep pace and qualify.
The manager has to take huge credit for his influence on the team, having now guided them to six wins from six in two-legged European knockout ties. His calm authority and tactical nous have stood out particularly in cup competitions.
Almost exactly 10 years ago Rangers were held to a draw by Berwick Rangers in the third division, this caps the journey back. The league title two seasons ago was crucial, but now they can truly say they have returned to the top level.
https://techplanet.today/post/watch-x-2022-streaming-online-ree-on-123ovies
https://colab.research.google.com/drive/16kSO7DmdS-1umbK1YkCyXSnvMzDSYfG9?usp=sharing
https://devzone.org.ua/post/watch123ovies-x-full-ovie-now-available-online
https://devzone.org.ua/post/atch-the-invitation-nline-ree-123-ovies-nline-the-invitation-2022
https://colab.research.google.com/drive/1355E1sGOGk8nww1XmjjeeysU6IelLsJG?usp=sharing
https://techplanet.today/post/watchmovies-x-2022-full-free-english-movie-in-online
https://colab.research.google.com/drive/1JK3bgBoH9d6l4IvnlwwERpZj96Q1gFSh?usp=sharing
https://techplanet.today/post/watch-firebird-2021-online-on-123ovies
https://colab.research.google.com/drive/18LYy_cXQY1rIYJ1ZaIkDcjEjJwZtp29f?usp=sharing
https://colab.research.google.com/drive/1lADyudblRdR_9PxmfKYNlOgR30Jea5Df?usp=sharing
https://techplanet.today/post/watch-123movies-the-grandmother-2022-full-streaming-online-free-on-reddit
https://devzone.org.ua/post/watch-the-grandmother-2022-streaming-online-free
https://techplanet.today/post/watch-turning-red-2022-full-streaming-online-free-on-123movies-reddit
https://colab.research.google.com/drive/1WSsUoyipVIlxLxaApfpmbGfvy3ez5Jtb?usp=sharing
https://techplanet.today/post/watch-theythem-2022-streaming-online-free
https://colab.research.google.com/drive/11GEOtN6UWT4ScPgHD17OG-Ilo91SYvEh?usp=sharing
https://techplanet.today/post/watch-the-invitation-2022-streaming-online-free-hd-movies123
https://techplanet.today/post/watch-orphan-first-kill-2022-full-free-english-movie-in-online-with-4k-streaming-now-athome
https://colab.research.google.com/drive/19M3jxrdjF9bQssXssrEcpitkkYsPX3a4?usp=sharing
https://techplanet.today/post/titta-pa-dragon-ball-super-super-hero-2022-online-gratis
https://colab.research.google.com/drive/13FjoSfyYIzywKBitIs1HsqB5An-rz1jw?usp=sharing
https://techplanet.today/post/se-den-officiella-tavlingen-2021-streaming-online-gratis
https://techplanet.today/post/se-fire-of-love-2022-fullstandig-streaming-online-gratis-pa-123movies-reddit
https://colab.research.google.com/drive/1XswrRhjhWKghDuPTdIIK3NYxH_O21Pbq?usp=sharing
https://techplanet.today/post/se-filmer-dragon-ball-super-super-hero-2022-full-movie-gratis-online-pa-123movies
https://colab.research.google.com/drive/1-ZFqT6F38_b6uzRsn3q-G_dKlPNHymLt?usp=sharing
https://techplanet.today/post/se-filmer-good-luck-to-you-leo-grande-2022-streaming-online-gratis
https://colab.research.google.com/drive/1FkekbhN7bF7XaxSpGkHolNsr6VHLmTwR?usp=sharing
https://techplanet.today/post/se-films-the-invitation-2022-streaming-online-gratis-hd
https://colab.research.google.com/drive/13cgjz5rhdU-crqeXNOFojq7BTRdS5Iti?usp=sharing
https://techplanet.today/post/se-si-ingenting-2022-full-gratis-engelsk-film-pa-nett-med-4k-streaming-na-hjemme
https://colab.research.google.com/drive/1NwWj4Qa7G_J3vR3f95ouJrzNitfo_yU0?usp=sharing
https://shows.acast.com/atch-dragon-ball/episodes/watch123ovies-dragon-ball-super-super-hero-full-ovie-now-ava
https://shows.acast.com/watch-the-invitation-2022-full-streaming-online-free-on-123m/about
https://devzone.org.ua/post/watch-dragon-ball-super-super-hero-2022-streaming-online-free
https://devzone.org.ua/post/watchthe-invitation-2022-full-ovie-download-in-eng-sub-720p-and-1080p
https://www.boteco.ca/profile/the-invitation/profile
https://www.boteco.ca/profile/doragon-boru-supa-supa/profile
https://www.boteco.ca/profile/x-online-2022/profile
https://www.boteco.ca/profile/paws-of-fury-the-legend-of-hank/profile
https://www.boteco.ca/profile/nope-2022/profile
https://www.boteco.ca/profile/the-northman-2022/profile
https://www.boteco.ca/profile/123movies-shut-in-2022/profile
https://dailybusinesspost.com/uvalde-school-board-unanimously-approves-police-chief-pete-arredondos-termination/
https://soap2days.tv/blog/uvalde-school-board-unanimously-approves-police-chief-pete-arredondo-s-termination/
https://triwer.io/uvalde-school-board-unanimously-approves-police-chief-pete-arredondo-s-termination.html
https://dailybusinesspost.com/rangers-will-play-at-european-footballs-top-table-for-the-first-time-in-more-than-a-decade-after-stunning-psv-eindhoven-to-reach-the-champions-league-group-stage/
https://soap2days.tv/blog/rangers-will-play-at-european-football-s-top-table-for-the-first-time-in-more-than-a-decade-after-stunning-psv-eindhoven-to-reach-the-champions-league-group-stage/
https://triwer.io/rangers-will-play-at-european-football-s-top-table-for-the-first-time-in-more-than-a-decade-after-stunning-psv-eindhoven-to-reach-the-champions-league-group-stage.html