The Ukrainian army is under more pressure than at any time since the first desperate weeks after the Russian invasion.
It could be fighting a losing battle in Luhansk, the northern part of Donbas region.
The Ukrainian General Staff says the Russians appear to be concentrating their forces for another push.
In the last day the Russians have intensified their attacks across the Donbas front line – getting closer to completing the encirclement of Severodonetsk, a city of 80,000 before the invasion.
The Ukrainians, as usual, are fighting with stubborn determination. Reinforcements are being poured into the battle.
In just a few minutes I saw about 20 armoured personnel carriers, with soldiers riding on them, driving to the front line – along with tanks on transporters and multiple rocket launchers.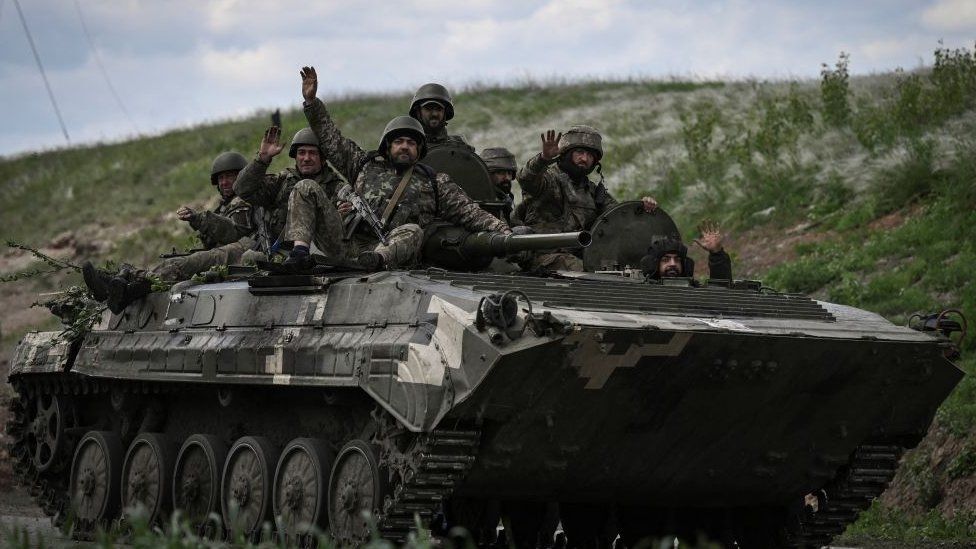 They have slowed the Russians down but have not stopped the offensive grinding forward. The Russians are inflicting heavy casualties.
A military source in the 57th Brigade told me that one of their units went into the line with 240 men and came out with about 140 – the rest of them killed, wounded and captured.
Ukraine's President Volodymyr Zelensky has said the Russians could be killing up to 100 Ukrainian soldiers a day in Donbas.
Not far from Severodonetsk, Bakhmut is a town getting slowly eaten by the war. This week it is about three miles from the Russians, well within range. Next week it might be much closer.
Civilians with somewhere to go have left. In the ruins in Donbas, the victory in Kyiv in March – the euphoria, glory and sacrifice – feel distant.
Bakhmut has been heavily shelled. Standing in front of his damaged house, a man in his 40s called Mitri showed defiance, apprehension and frustration. He had no idea what to expect in his town.
"I'm not Nostradamus. Why did Putin attack? It's all political games."
Mitri said President Zelensky's predecessor Petro Poroshenko would have reached a ceasefire agreement by now.
"At least there was peace before, they were negotiating. It's a pity about the people who died, the soldiers. It is a real shame."
It was, he said, President Zelensky's fault. He had missed an opportunity.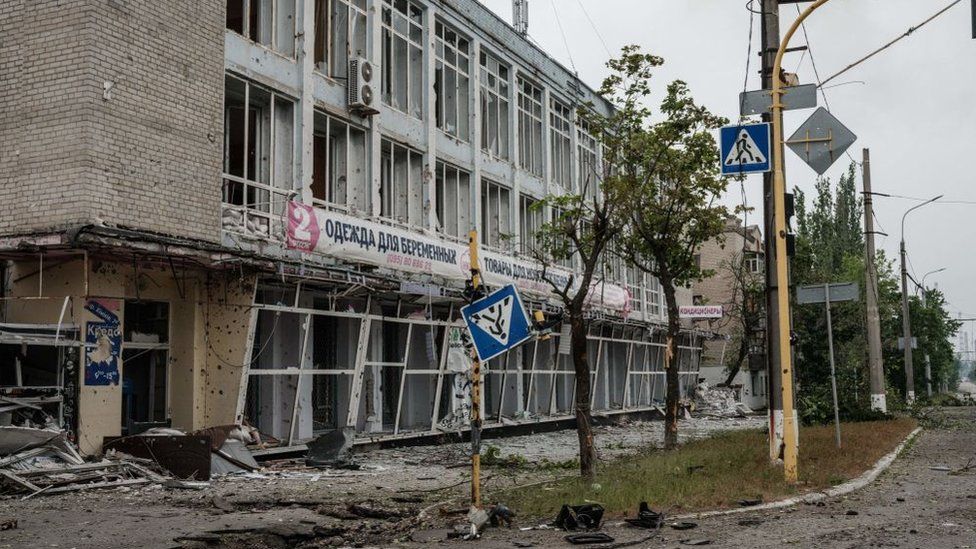 Mitri shrugged and sucked angrily on his cigarette when I asked him if he would accept a deal that allowed Russia to control all of Donbas, compared to roughly a third of the territory it controlled before the invasion.
"I don't know. What could it change for me? The main thing is to stay alive. This is just the beginning, everything is still to come. If we survive, we'll see how it goes."
Thousands of civilians are still in Severodonetsk, as the Russians fight to encircle the last Ukrainian soldiers in the oblast of Luhansk, the northern side of Donbas.
At the railway station in Pokrovsk, a safe distance from the battle, I spoke to Lida, an elderly woman who uses a wheelchair. She had just been evacuated from Severodonetsk.
With other disabled and wounded civilians, she was being evacuated to the relative safety of western Ukraine on a special train, turned into an ambulance and intensive care unit by the medical organisation MSF, Doctors without Borders.
Lida, who radiated defiance and cigarette smoke, was rescued by soldiers who took her and other civilians through heavily shelled areas.
"They bombed everything, we barely escaped. Glass is smashed, everything is scattered around. And I am not able to walk at all. Disabled. That's how it is.
"Nine storey buildings, the upper floors are destroyed. All ruined.
"Putin's a scoundrel. We used to live peacefully. There was a Soviet Union and so be it. They divided Ukraine and Russia. So that's why the problems began."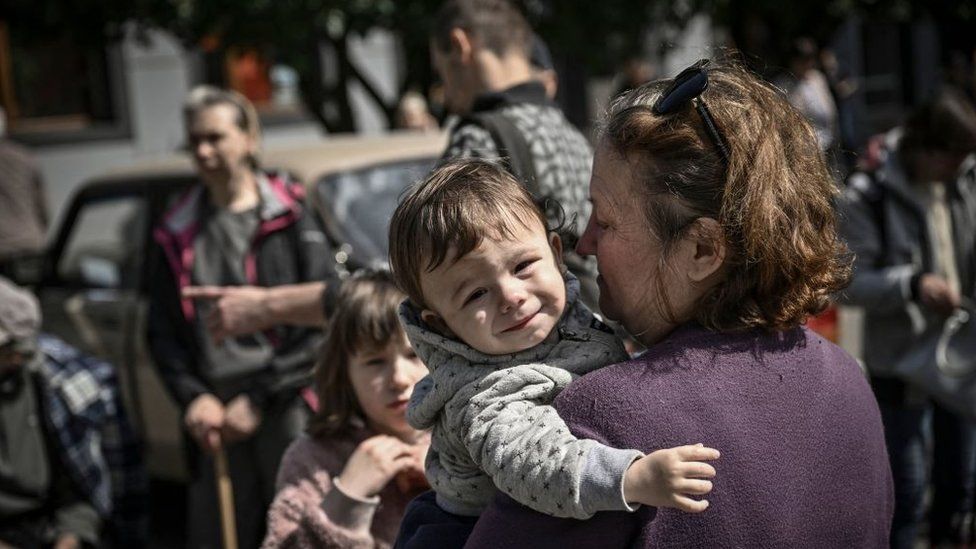 If President Putin's forces can encircle Severodonetsk, their next targets would most likely be the key cities of Kramatorsk and Slovyansk in the Donetsk Oblast, the other side of Donbas.
Then he might declare victory in the battle for Donbas.
I saw lines of freshly dug trenches near the two cities, as the Ukrainians prepared fall back positions. If they fell, and it is no certainty as they are both heavily defended, President Putin would be able to declare his first significant victory of the war.
Russia would control a belt of territory stretching along its border south from Donbas and along most of Ukraine's coastline.
President Zelensky says that only diplomacy can end the war, but he has said that Russia must return to the positions it held before the invasion.
His allies, led by the US and UK, want to weaken Putin's Russia permanently. They have said Russia must not win.
Their critics say they'll fight to the last Ukrainian.